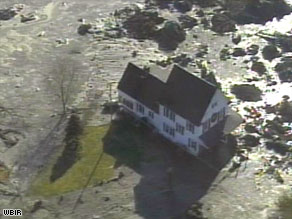 A couple of days after the fact, my husband told me about the sludge spill in Tennessee, ruining Christmas for all the families in its wake. Somehow, it was not considered Breaking News by the LA Times, and I think not even Front Page news the next day.
That's why it took a while before it sank in that everything we've been saying about dirty coal isn't all that newsworthy at Christmas time, even though this blogger used the title I wanted to use here: Coal In The Stocking - And The Drinking Water already on the 23rd, the day it happened. As is quoted in his blog:
"Coal can never be clean."
There will always be sludge from the plants that has to be stored somewhere (using what used to be clean drinking water, or a lovely fishing stream.) Coal has to be mined (by very few - non-unionized - miners) leaving the lives of their neighbors dirtier and poorer.
United Mountain Defense: No Such Thing As Clean Coal: The un-natural disaster is keeping close tabs on the disaster and the people it has affected. If you'd like to contribute to help them, there is a opportunity at the bottom of the page.
TVA is advising families to boil water however they are not informing anyone about the reasons for needing to boil the water or sharing any chemicals that may be present in their water.
TVA has reported that preliminary water test show that the drinking water at the nearby water treatment facility meets standards, but lots of community members have well water or depend on water being pumped from a spring located in the flooded area. There is also still the potential for more sludge to enter the water supply thorough waste runoff.
TVA says the area is not toxic but you can see coal sludge in the water and dead fish on the banks. The members of this community are without clean water and many without electricity or gas heat. We met people who were given motel rooms by TVA and others on the same street that have been without heat for days in 27° weather and others who have been vomiting for more than 12 hours after drinking the water.
Here are a few more articles with pictures about the sludge spill:
Coal is dirty!
The Sierra Club magazine this month has an article called The Dirt on Coal: A messy business comes home to roost, showing graphically how much of the dirty stuff we consume personally to live our daily lives. The editorial "Rant" eggs on Obama, who evidently is still listening to those who think they can innovate methods to make coal clean.
And if Obama clings to the belief that there might be such a thing as "clean coal," Sierra's crackerjack art staff could step in to show him the pictures at right. If they need dust masks for a photo shoot (see "The Dirt on Coal"), Mr. President, coal can't be all that clean.
They're thinking of sequestering the CO2, which is very unlikely to be possible in the continued scale needed. They're not thinking of towns buried under sludge, lovely Appalachian mountain tops removed and pushed into streams.